MetaStock is the leading trading software program designed to help you make better decisions about when to buy and sell in FOREX, futures, and the commodities markets.
Equis International, the creator of MetaStock, is a wholly owned subsidiary of Thomson Reuters—the world's premier global information company, which provides information tailored for professionals in the financial services, media and corporate markets. Equis also provides graphics and technical analysis components to the Thomson Reuters product line, which serves professional traders in the world's largest financial institutions. 
Learn More About MetaStock
MetaStock is a world-class trading product suite targeted toward the individual investor. It includes both real-time and end of day variants of the software along with data subscriptions, plug-ins and third party products. This means that no matter what level you're at, you'll get access to state of the art software to help you trade better.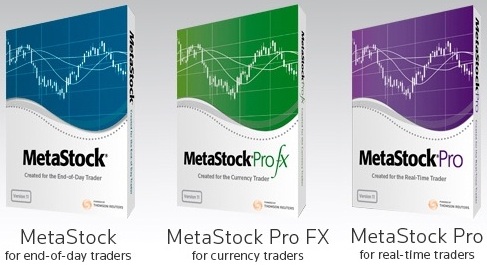 What's MetaStock Pro?
Metastock Pro is the #1 premium technical analysis and charting software product for real-time traders. 
It's the version of this program you want if you're trading the markets live.
Click here to get MetaStock Pro for QuoteCenter ($400 discount)
MetaStock Pro FX is for….?
Forex Traders. It's the Foreign Exchange (FX) version of the MetaStock product. Like MetaStock Pro, it's for real-time traders, but has a slightly reduced feature set and price. The symbol database only has the FOREX pairs. Also, the program does not include the Power Pivots indicator or volume based indicators, and does not come with a historical data CD.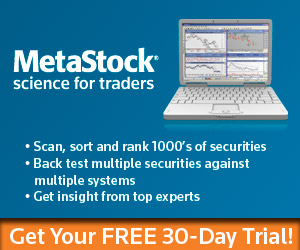 How is MetaStock EOD different?
The award winning analysis program that is designed to help you make decisions about when to buy and sell in the stock, FOREX, futures, and commodities markets based on end-of-day data. It's different to Pro and Pro FX because it's ideal for those whose trade after the market closes.
Click here to get MetaStock End of Day ($50 discount) *Most popular
Not sure MetaStock is for you? Instead of asking yourself, "what is Metastock", click here to find out for yourself with a free 30 day trial.